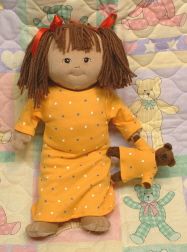 Liliana has always loved babydolls and stuffed animals, but mostly dolls. I'm a sentimental person so I've always liked the idea of getting her things like that she will be able to keep for a lifetime and maybe even pass down to her daughter. When she was about 10 months old, I decided I wanted to buy her a special doll. But what I wanted I couldn't find readily in any store. I wanted a baby doll that would reflect who she is, which is a bi-cultural baby. She's not your typical white-skinned American girl.
So I surfed the internet to see what I would find. What I found was Lola. She is pictured above and we chose her name ourselves. I loved her right away because she is a bedtime baby and I thought that was an extra special touch. With all the traveling we would be doing, I knew we could always take Lola as a constant presence in Liliana's life. So, we ordered her! We got her from www.pattycakedoll.com. It's a great website for Ethnic Baby Dolls. They have Hispanic, African American, Asian Dolls and more. And they have more options than just the one above. I highly recommend it.
Now, while Lola stays in the bedroom, Liliana prefers a more lifelike baby to play with during the day. My mom had gotten her a twin set of some baby dolls that she loved. But, they couldn't come to El Salvador with us. I wanted a small doll that I could easily fit in my purse or carry-on for our back and forth trips. This Mini Baby Doll from Target is perfect. I was pleasantly surprised to find this baby comes in 3 different colors and had different eye colors. I just had to search the pile for what I wanted. I got my tan skinned, brown eyed baby for Liliana and she adores her.
The following dolls I found while doing research last night on Hispanic dolls and what all the options are. There are quite a few to choose from really, but only these few I found really are what I would want for my baby girl. So here's my wishlist and/or recommendations:
This first doll (above) comes from www.multiculturalkids.com. I love her because she's all wrapped up in a blanket, which Liliana loves to do with all her dolls. And she doubles as a puppet!
Next up is this little lady below. I'm not sure if I would actually buy it, but Liliana is so motherly to her babies that it might be cute. Here's what they say about her: "Little Mommy Baby Ah-Choo Hispanic Doll: Baby Ah-Choo is all stuffed up and needs girls tender loving care. Girls will love to squeeze the dolls tummy and watch her sneeze, then help her get better with the interactive thermometer that checks her temperature, plus medicine, measuring spoon and a box of tissues. Baby Ah-Choo Hispanic is bilingual too."
This next doll is something I really want! You can see her below.
Check out Dolls Like Me's philosophy:
"Children need to see the world the way it really is. They need to begin to develop global understanding, cultural awareness, and self-esteem as early as possible–and children of color need positive images that look like them."
My next doll has been very controversial because it's a doll that actually breastfeeds. I think the controversy is ridiculous because nursing is a natural thing and most children that experience and see their mother's breastfeed attempt to do it to their babies at some point anyway. Why not encourage and support their curiosities?! It's not yet available on the English website, but the Spanish website http://mibebegloton.com lists a whole bunch of stores, mostly in Latin America.
Now, American Girl Dolls are famous, mostly for their cost from what I have heard. But they also seem pretty fabulous. They have a new Itty Bitty Baby shown below that I really love that comes in a darker skin tone for Hispanic babies. You can buy the baby alone or with all the extra stuff, which I know Liliana would go crazy for! Below the Itty Bitty Baby are the only other 2 American Girl Dolls I would probably ever purchase. They are Josephina and Kaya. I like their look and their cultural backgrounds. I think it's so cool they come with books and accessories! Their website is www.americangirl.com
Liliana sleeping with her favorite baby (it laughs and cries)
Liliana playing with her dolls at Christmas.
Liliana with her Dr. Seuss stuffed animal.